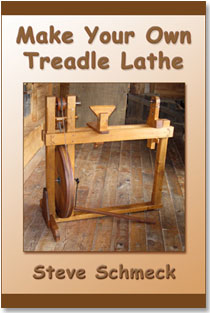 ---
In response to feedback from readers I have prepared a list of updates and parts sources to help you build your lathe from this book. Click on the 'Lathe Book Updates' button or click here to download the
"Updates PDF".
Here is a practical, step by step guide to building a foot-powered lathe for light duty wood turning. You can build your own treadle lathe by following the well illustrated steps presented in this compact book.
You can purchase the Print edition in Color (a great gift idea!), or Black & White; or digitally as an eBook.

Be sure to check out some lathes inspired by this book.

E-Book just $2.99!
Buy it now by going to:
- Smashwords
- Apple iTunes
- Barnes & Noble
- Amazon
or your favorite e-book retailer.
---
You can also purchase the print book online from CreateSpace or Amazon.
Links to Color Edition
- Amazon
Links to B/W Edition
- Amazon
Buy the full color Print edition directly from us for $10.99.
54 pages, 6" x 9" Paperback
The black & white Print edition directly from us for $6.99.
OR

Click on Order Form to order and pay by mail.

PLEASE NOTE: We can only ship within the USA. See ORDERING INFO for shipping charges and other information.