ManyTracks, including Tom Caron
Most of our music adventures are just Steve and I but whenever the wonderful upright bass player Tom Caron (from the former band 'Grassfire') can join us it adds a special dimension to our sound, and he is always welcome! We would certainly play together more if we lived closer together. There's good reason he and his bass are so popular wherever musicians gather, whether jamming or on stage. Though a passionate bluegrasser we are so fortunate that he is willing to join in a wide variety of music genres.
Wild Cherry Wine
We first met fiddler Sharon Vierk when she started attending the Falling Roc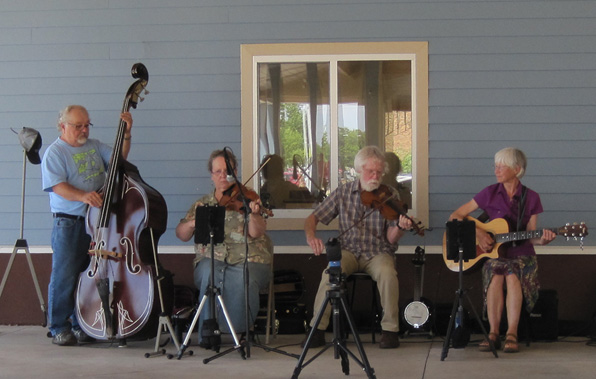 k Old-time Jam. Steve was happy to finally have another fiddler to play with and their styles and fiddles blended well. Soon (about 2010) we got together outside of the jam to play at venues as varied as a local school benefit (where Sharon was a popular bus driver for so many years) to Fayette State Park Heritage Day (where we managed a very last minute request to play Take Me Out to the Ballgame and The Star Spangled Banner) to the Trenary Fur and Feather Swap (so much fun with a field full of squawks and bleats) to the U.P. Steam & Gas Christmas in the Village (dusting off all those seasonal songs), and other fun events. And for the later events the intrepid Tom Caron joined us to round o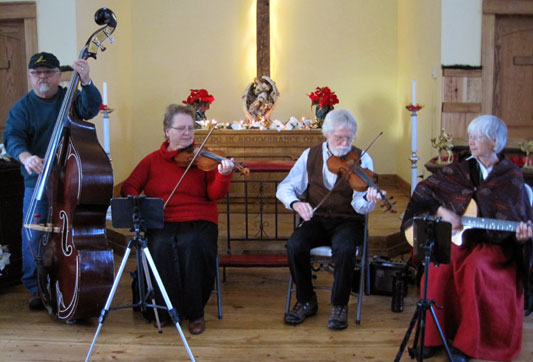 ut our band. Early on we came up with the name "Wild Cherry Wine" since that was a beverage both Sharon and I made.
When we stopped traveling up to play at Falling Rock and Sharon started playing with several other groups we naturally fell away from playing together, helped by living 75 miles apart and the infamous 2020-21 situation. But it was fun for the four of us to meet again in December 2022 at the quaint little chapel at the U.P. Steam & Gas Village for their annual "Christmas in the Village" event. Who knows where we might meet again!

New Lost Lake Ramblers
When Marilyn and Barney and Chelle (see Falling Rock Jam) joined us at Falli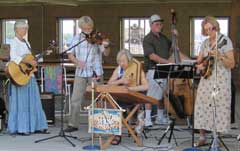 ng Rock it began a whirlwind adventure for Steve and I. They, along with Chelle's husband Ken, had been playing as a band for some dozen years as Lost Lake Effect and had recorded two CD's. They knew several hundred old-time tunes and songs while Steve and I were working hard to get several dozen into our fingers. Several years previous Ken had sadly had a stroke and was no longer able to play (but he was a loyal audience member at all jams and performances!). They were looking for another musician or two to join the band and were excited to walk in and see a fiddler and a guitarist - just what they wanted. If only it had been ten years later for our skills!
They were patient and we did join their band. We played together in the jam, learning many more tunes. We practiced and played out for several gigs and events. We learned so much from those three. But it was just too early for us - Steve had only been playing the fiddle for maybe two years at that time! We bowed out of the band but continued the musical friendship for years playing with them at Falling Rock. Chelle went on to help form and play with the band 'All Strings Considered' in Marquette (we played with them for a year or so at the DanceZone). Marilyn started a wonderful ukulele and singing group at Lost Lake, encouraging and teaching many local players. Barney and Marilyn continued with the FR Jam.

Chelle retired from playing in 2020, Barney passed away in 2021, Ken had died some years earlier. Marilyn no longer plays that wonderful old-time banjo but is still a great mandolin and ukulele player, living downstate in the winters but rejoining the Old-time Jam in the summers. What wonderful and full memories we have of all of them, with great appreciation for helping to get us on the musical journey we are on.
Falling Rock Old-time Jam
So many years ago, and such an important part of our old-time journey. Steve had begun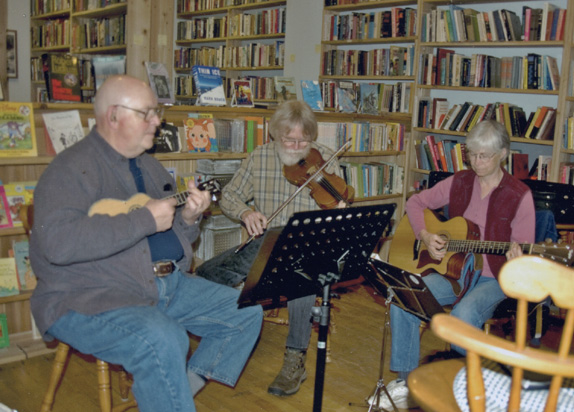 playing the fiddle and we were learn the basic old-time tunes. Falling Rock Cafe and Bookstore in Munising was in its early years as well, with supportive friends and customers to help them be a community center. Don Snitgen was one of those loyal friends and had been playing older songs on his flute at noon. Through mutual friends we met Don and when he found out we were playing old-time music he wanted to get together as he had recently started playing ukulele and wanted to learn those old-time fiddle tunes. We figured that would be good for all of us so we agreed. Since he lived on Lake Superior and we near Lake Michigan, Don urged us to meet and play at Falling Rock, sort of in-between. Now we weren't much for playing in public yet but Don is anything but shy! He loved performing. But Falling Rock was pretty quiet in those years so we agreed. I don't remember when we started but we have a photo of the three of us playing there dated October 2007.
Don called us the Falling Rock Old-time Jam right from the beginning - that was his dream. We just concentrated on learning, playing, doing the best we could, reluctantly letting Don talk us into playing for Falling Rock's informal but organized Supporters Events.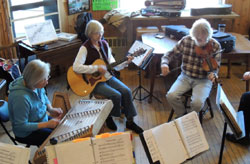 We certainly were not a jam. But word got out and to our surprise and delight one day in walked the real beginnings of the jam - a banjo/mandolin and an upright bass - Marilyn and Barney Ouellette. And soon after Chelle Schuster with her wonderful hammered dulcimer. The former "Lost Lake Effect" band. Suddenly Steve was no longer on the front line as the only melody player. Now we had musicians who could play very well and were patient enough to play with us beginners. Steve picked up style and tunes from Chelle and the hammered dulcimer while I soaked up the banjo and mandolin patterns from Marilyn, while Barney kept that wonderful bass line going. To say we learned a lot from them is an understatement.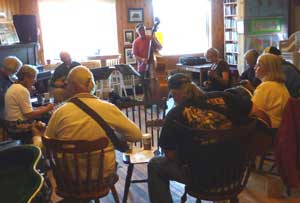 After a time other musicians came and went, some came and stayed. The Falling Rock Old-Time Jam became a real jam. It moved to Wednesday evenings and became very much a regular part of Falling Rock Cafe. Fiddler Sharon Vierk joined about 2010. Now we had two fiddlers! Then later Gloria Artibee made three. Sometimes there were only 4 or 6 of us, other times (especially in the summer) there were so many we hardly fit in the room and crowded out customers. For years I was the only guitar but later there were usually at least a few more. It was an adventure.
After 7 or 8 years Steve and I decided to bow out of the Jam. It had been such a big part of our life, every week, and we were happy for all those years. But in the summer we had started playing at our local Farmers Market on Wednesdays, leaving early to rush up to get to the jam late. And winters were often a challenge of driving into or out of snow storms coming or leaving Munising for the 50 mile drive. We still went up now and then to play and visit but it was no longer every week. Chelle had made the same decision a few years before we did, and many years later Don had to stop playing for medical reasons. But Marilyn and Barney were still the reliable core until Barney's recent death, and Marilyn heading downstate for the winters. There were other core musicians now and Sharon still the fiddler, along with Gloria until recently when she moved away.
The original owners of Falling Rock Cafe retired and sold the Cafe. The hours changed, the pandemic shut-down came and went but the Old-time Jam has persisted. They play at Falling Rock when they can, play elsewhere when they can't, but they keep playing. And once in awhile, for old time's sake, we go join in, getting a real high when we fall into those old tunes that we learned and played there so many years ago, in our heads hearing Chelle's hammered dulcimer, Marilyn's old-time banjo, and Barney's bass.
Here, There and Over Yonder
And there were more. Many jams in Marquette, playing with friends in Garden, connecting with a few musicians locally. And always, we keep open to finding more old-time music players in our area, ever hopeful, as we keep the flame alive for this wonderful old-time music.