---
---
Autumn Harvest 2021 -- The Orange Continues!
My Orange Maxima squash continues to do very well. This year I planted 4 plants in each of two 25 foot by 4 foot plots, moving the squash plot up away from where they had been growing near an apple tree. We ate the last of last year's crop April 24, the latest I'd kept any. Quite impressive! This was another record hot summer with no fall frost until mid-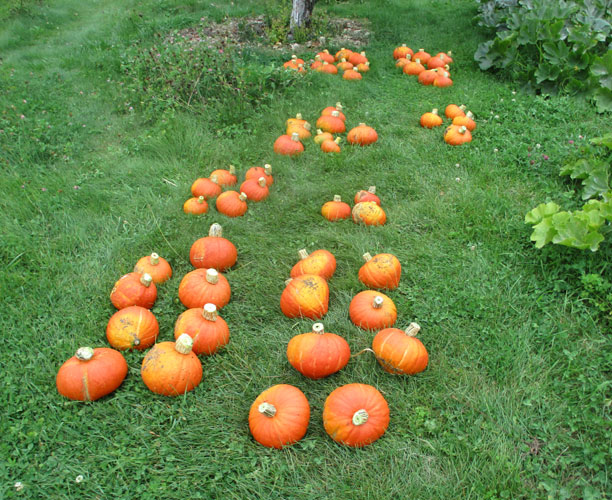 October. I harvested because of maturity not because a frost was imminent, September 20, before a rainy spell and because there was starting to be some rot where fruit was contacting soil and in some of the stems. They were ready, and was it ever a harvest! I wanted a few more squash to store so had planted one more plant than previous, but they simply went crazy with the heat and sun. I ended up with about 300 pounds of squash, 66 total. For just two people! And a beautiful crop it was. I gave squash away to anyone who would take a few, and happy if they would take more. I stored 24. It was so nice to have squash again, though we had to wait a month for them to cure -- 2 weeks in the warm kitchen then another 2 weeks in the pantry before they were at their best flavor.
I decided to get more serious about choosing the best to save seed from. So when harvesting I separated each plant's fruit -- no easy task in the amazing tangle and jungle of long crossing vines! By doing that I found that the two plants at the ends of the plots produced about twice the amount of fruit as the two in the center. The apparently don't like to be crowded (the end ones could spread out more beyond the plot borders). Next year I will only plant 3 per 25 ft plot. My main criteria, of course, is taste, health and ability to produce in my garden. But I also prefer a medium small size, about 4#. The crop from afar looks all alike but there are differences in shape and size. Almost all had the large stem, and some degree of a bottom "nose" shape, slight or more pronounced.
Because of the rain I laid them all out on the floor of the outer shop, the fruit from each plant in its own pile. Then I looked closely at all of them and chose the "best" four groups -- size, shape, total harvest. I marked about 4 fruit from each to save seed from as we ate them if they were good. [it's January when I'm writing this and they have all been delicious as usual! But I have selected the best as far as form to save seed.]. I still want some diversity but do want to continue on with those best for our use. What a fun, and great tasting, crop to play with.
---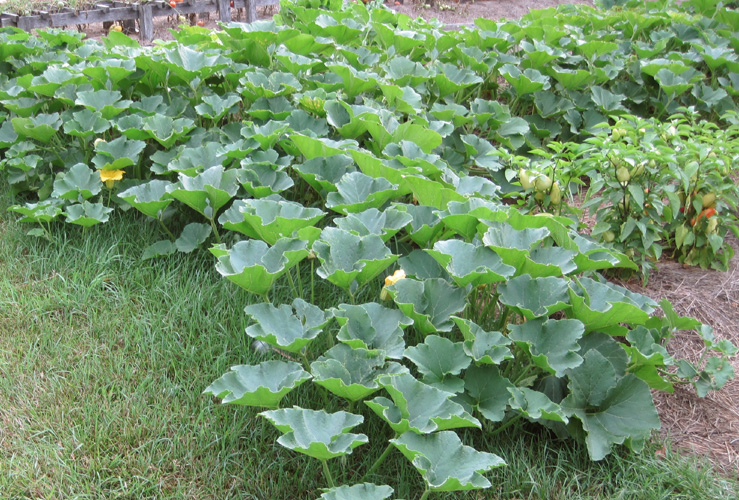 ---
October 2, 2018 -- Lots of Orange!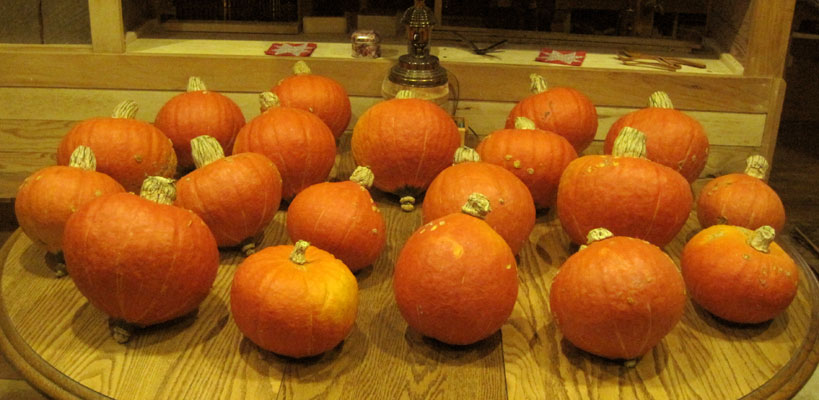 The winter squash (and most heat loving crops) made the most of this long hot summer by going all out to mature a record number of fruit - 90# / 20 squash from 4 plants. I'm usually happy to get a half dozen ripe fruit before frost but these were all ripe long before then. What fun to have plenty to eat and plenty to give away.
This variety started from a gift squash from one of the Farmers Market vendors, a delicious small round orange squash he thought might be Moongold. It was likely grown with other varieties and crossed but I decided to save the seed anyway and see what grew. I did and it did and we got several nice small orange squashes of equally good flavor. But I also grew my usual green buttercup squash that year and knew there was a good chance of crossing between the two. This year I planted seed from the second generation orange squash and it grew and produced with great vigor. It had indeed crossed with the buttercup based on size, shape, & stems of many. But almost all had this cute corky tipped green bottom sort of like an old fashioned toy top. No buttercup type cups on any. Shapes varied from squat buttercup shape to very round or almost teardrop on a few. Mmm. I looked at photos online and it appears likely there is a strong Golden Nugget gene in the mix! I'm hoping they will taste as good as they look. (see below)
Later Oct. note: So far they have! The first one had a drier nutty flavor/texture of a good buttercup; the second was more moist and sweeter, more like the original. Both were delicious and got high marks from us both. I'm saving the seed (equal number from each good squash) as we eat them and will continue planting this line.
Months later: February begins and we have only two small orange squash left (and four medium small buttercups), having been enjoying eating squash almost daily with lunch. Though slight differences in flavor, every one of the orange squash have been delicious, no extra butter or spices needed, and very much appreciated. They haven't the best storage temperatures (low 40's) but have held up well. I'm glad because we don't seem to have the 'ideal' 50 degree spot in our house so they do the best they can in the cool winter pantry.
---
---
Copyright © Susan Robishaw