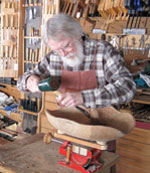 Artist Statement

"It is hard to believe that I have been working with wood for over 70 years, and still spend most of my time sanding. When I was eight years old an elderly Finnish gentleman who lived within earshot of AuTrain Falls in Michigan's Upper Peninsula introduced me to serious woodworking. His simple, logical approach to working with wood and his reverence for good hand tools gave me a foundation for what was to become a life-long interest. Although sidetracked several times, I always knew that I needed to live remotely in the U.P. forests and make nice things from wood.
The natural finish of my pieces and their tactile impression is as important to me as their flowing, organic designs. I feel it is important to spend time with each piece—it takes time to help the form emerge and nothing of value is created without investing yourself in your work. The extension of this ethic, if that is what it is, is that each work, whether a large bowl or a small spoon, is finished as though it is a piece of fine jewelry. I particularly enjoy the creative conversion of a tree I've known into a special work of art.

I feel fortunate to be living my dream and to be able to share the fruits of my work with so many nice folks."
Steve Schmeck
---
Selected Juried / Invitational Exhibitions

& Awards

Animal/Vegetable/Mineral Show — Berkowitz Gallery, Univ. Mich.–Dearborn MI
Art on the Rocks, Marquette MI — Juror and Awards Judge
Artists in the Round, Marquette MI — Award
Bay Arts Member Shows — Bonifas Fine Arts Center, Escanaba MI — Awards
Expressions Art Show & Auction, Marquette MI
Expressions In Wood and Wool, Marquette MI — 3 Person Exhibition
Into the Woods — Marquette County History Museum — special exhibit
LSAA Juried Member Shows — University Art Gallery, Marquette MI — Awards
Machine p(ART)s — Bonifas Fine Arts Center, Escanaba MI
Northern Exposure Shows— Bonifas Fine Art Center, Escanaba MI — Awards
One & Only: Gifts Made by Hand— John Michael Kohler Arts Center, Kohler WI
Superior States, Governor's Invitational — Lansing MI
Wood and Watercolor — Bay College Art Gallery — 2 person Exhibition
---
ManyTracks -- Sue Robishaw and Steve Schmeck
We live and work in our home, studio, and shop in the northwoods of Michigan's Upper Peninsula. Our art, our work, our lives, and our play interweave and blend to such a degree that it is often hard to tell where one ends and the other begins, which is how we like it to be.
Our interest in a sustainable lifestyle and world permeates our life and work. The sun provides our electricity, the wind pumps our water, and the woods and the sun heat our home and cook our food. We strive to live a non-disposable life.
The artwork that is created by each of us reflects our lives, both inner and outer, individually and as a part of the larger communities in which we live.