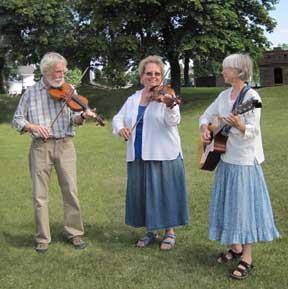 I don't remember when we first met Sharon Vierk as it seems like we've been comfortably playing together for a long time. Our paths first crossed at the Falling Rock Cafe in Munising where we converged for many years with other musicians most Wednesday nights for an old time open jam. Though we live about 75 miles apart, we enjoy playing together so we get together when we can. We share country homestead lifestyles as well as a love for a wide variety of traditional music. And since we also have in common the making of good homemade wild cherry wine, we had a ready made name! Then the ever adaptable and so talented Tom Caron joined us on his trademark fancy painted bass to our, and the audience's, delight.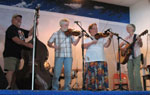 Annually 'Wild Cherry Wine' enjoys stage time at the Aura Jamboree in July as well as adding old-time music for the fun and always interesting Trenary Fur & Feather events. We've provided background dinner music for diners, and volunteered for non-profit fundraisers; roved the wonderful historic townsite of Fayette (with appropriate historic tunes, of course), and played with other musicians around and about. It's all a good time and we're always open to new adventures.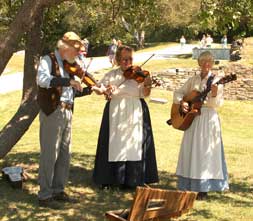 So check our schedule and come join us here or there for some good old time traditional (and some not so old) music. Meantime, check out the Audio page for some tunes from "Wild Cherry Wine".