Like the time Mr. C (a large tom cat who wandered into our lives one fall day) was chasing/playing with a small mouse out in the yard. As he turned around for another pounce, a savvy Barred Rock hen wandered by, turned, grabbed, and ate the small rodent without the cat's notice. Mr. C simply could not believe the mouse was gone. He searched and searched the area for his missing treat, while the hen wandered nonchalantly away. Mr. C didn't seem to appreciate our hoots of laughter either.

Or the time Steve was working on our current "vintage" car, a 1970 Opal Cadette, when he dropped a necessary small bolt into the long grass. We searched, and searched -- hands and knees, noses and fingers, over and over that area for what seemed like hours, with no success. A wandering hen came by, pecked in the grass, came up with the bolt, rattled it around in her beak a moment, then spit it out in disgust and haughtily walked away. The bolt was retrieved by the humbled humans, with no comment.

In the late summer when the herbs were tall and lush, I would often toss handfuls of mint into the chicken coop (the floor of which was dirt with a generous supply of hay and sawdust for bedding). It was great for the general atmosphere. Wormwood was used often, fresh or dried, in the hay-filled nest boxes, to discourage any unwanted critters (such as mites or lice).

The wormwood didn't work against snakes though. Not that I had ever thought it should, or needed to. But one day I was calmly collecting eggs from the nest boxes (hung about eye level on the walls) when I looked over my shoulder to see a Pine Snake looking calmly back from within a nearby nest box. Well, I like snakes, but (though I do hate to admit it) I much prefer the larger ones to be at a two foot or so distance, especially from my nose. I'm also not much for picking up Pine Snakes. So I went to ask Steve if he'd mind taking a small Pine Snake out of the coop.

Turned out this small snake was four feet long -- a quite healthy adult, with egg lumps along its body. We figured we should take it away from the homestead to discourage a repeat visit, so put him temporarily in a cardboard box, with a board on top to keep the top down. When we came back about 10 minutes later, the box was empty. But there were no more snake visits to the chicken coop.

A great winter treat, for both chickens and us, was a bale of good, green alfalfa hay. In the fall, we'd get six bales of the best looking hay we could find. Then about once a month, during the winter, we'd put a bale of hay in the coop (twine removed). The chickens had a great time scratching and eating and spreading the hay around. And we enjoyed the fresh aroma and dark yellow yolks.

When it came time to butcher, we took the advice of a friend who had rabbits and banty chickens: we skinned them. No plucking (which, we discovered the first time we tried it, is a skill very hard to learn from a book). Skinning is relatively easy with two people -- one holds, the other pulls.

Usually I would can the meat, approximately one bird per quart jar. Even old hens turned out tender and delicious. All the bones, wings, and giblets were simmered in water for a long time (to concentrate the broth), strained, and canned for soup stock. A lot of work, but great eating.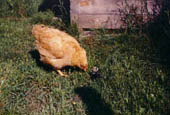 If you're planning on letting your chickens run free range, you might want to give consideration to the best camouflage coloring for their environment, and choose accordingly. Our Barred Rock rooster was great at spotting a hawk, usually giving his warning cry before we humans could see the coming threat. The flock would all freeze where they were, hugging the ground, hiding, but being mostly quite visible in their bright white and red and black coverings. We chased off many a hawk and owl, and lost many a chicken, over the years. I have often wondered if more camouflaged colored chickens would have had a bettered chance at survival.

When we gave up our flock, we pretty much gave up eggs. It wasn't that hard. We just left them out of the pancakes, and breads, and cookies. It still made fine food. But we do miss those great, strong, deep yellow yolked, eggs -- cooked just to that not-too-runny, not-too-hard stage, gently slid upon a small stack of hearty, whole wheat pancakes, with homemade maple syrup dripping off the edges.

But mostly, we miss the personalities. Rocky, the wonder rooster, a sturdy Barred Rock with the long, sharp spurs, who was much admired by the hens, and who really didn't like me; Reddy, his favorite companion, a small, trim, Rhode Island Red hen with a friendly and alert manner, who would come into the cabin with her pal Rocky to pick at odds and ends hidden in the cracks of our wooden floor; Spesh, a small, paranoid, handsome, long tailed, Silver Spangled Hamburg rooster who was cruelly tossed into a box of full sized birds as a freebie, and who spent his days on the windowsill of the coop, out of the way of the rest of the block, all of whom were fully twice his size; and the lively, little white bantam mix hen who loved to jump up on people's shoulders when they walked into the yard, to the delight of some, the extreme non-delight of others (especially if her feet weren't exactly clean); and so many more. All sizes, shapes, colors, and personalities.

If you are willing to give them plenty of space; to study and learn as much as you can; work and care for them, chickens can be a great companion and worthy part of the homestead.
* * * * * *
Copyright © 1999 by Susan Robishaw