That first batch of chicks were raised by the book. They survived, and so did we, in spite of that. They arrived via mail and were the cutest things we'd ever seen. We wanted to our best by them.

The books said that the chicks needed temperatures of 90 degrees or so, for six weeks, before they could go out on their own into a coop. We didn't have regular electric power so the typical heat lamp was out. It was May and we were living in our 14 x 22 ft one room cabin. We set up a large cardboard box (see picture above) on a card table beside our bed, because that was the only extra space in the room. We kept the woodstove going even though it was getting warm outside. We roasted, and the chicks probably did, too.

By the time the chicks were the required six weeks old, according to the books, they had advanced to a 4 x 8 ft box which was a significant portion of our floor space. We had to add a chicken wire addition to the top of the box to keep the fast growing chicks in. And the cabin developed a coat of "chicken dust" that we never did get rid of.

They were fun, but they sure were happy when moving day came -- and so were we. We would miss their antics -- the three dozen alert eyes below the variably fuzzed heads suddenly popping up, straight and to the point, to look at any strange noise (such as a sneeze or laugh or crash); the developing personalities; the peeps, the cheeps, the squabbles. But we all knew there had to be a better way of living for them, and for us.

Their new coop wasn't quite ready yet so we turned our utility trailer into a temporary coop, with several addition and modifications, using scrap and salvaged materials. An attached short chicken wire enclosure allowed them access to the ground. We moved them out with a little bit of concern - was it too early - too cold? But the concern was all ours. They knew just what to do and wasted no time doing it. Scratching, pecking, running, jumping over each other. They loved it, we loved it. Nothing like real grass and dirt under your feet and real insects to chase and eat to make life fine.

Eight years later we decided we wanted some color variety in our flock once again. We had originally purchased five each of seven different varieties of heavy breed chickens. The rooster we had chosen to keep (or he chose to stay with us) was a Barred Rock. So over the years of attrition, brooding and hatching, our flock ended up all being variations of the Barred Rock coloring, nature being the way she is.

Once again an order was sent off for a colorful variety of chicks. We were living in our newly finished house by then and had a sunny spot by the chimney for a large cardboard chick box. We still had the woodstove going occasionally, but only when we needed it, not especially for the chicks. In fact, our house is naturally rather cool.

What we did have for the chicks, in opposite corners of their box, was two one-gallon plastic jugs, filled with hot water morning and night, and wrapped with old towels. The towel was draped such that it wrapped around the jug then folded out to make a tent for chicks to get into.

Some of the chicks started right off roosting on top of the jugs while some spent almost all of their time inside the tents next to the warmth. Others nestled near the jugs now and then when they felt need of the heat or comfort I suppose.

A piece of chicken wire for a lid kept the ambitious ones in (a few discovered they could fly out of the box by launching from the tops of the jugs and it is not easy to catch a lively chick loose in a large room). They all thrived happily and healthily.

A week and a half after they arrived an addition was built to their cardboard palace, with high chicken wire sides to keep them in yet let them see out. The small stick roosts were replaced with larger and higher roosts. One water jug was removed and the other filled with hot water only at night. A few chicks still used the jug for warmth but most just used it as a roost. A lot of bedding was used, both sawdust and hay. And this time we all enjoyed the experience.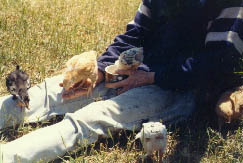 Two more weeks went by and at three and a half weeks old the fast growing chicks were happily moved outside to their own, small coop and fenced-in area within the large chicken yard. They reveled in playing and pecking in the grass, chasing insects, and watching the adult chickens from the safety of their enclosure.

We had previously learned that having a separate area for the mother hens and their chicks was a lot easier and safer for mom and her brood. They had their own small coop and fenced yard, separate but right beside and in company with the main flock. When mother hen was ready, when the chicks were about 6 weeks old, she was let back in with the rest of the flock and the chicks stayed in their separate enclosure until fall when they were old enough to hold their own and become part of the main flock. This separate area worked great for the new mail-order orphan chicks as well. They thrived -- bringing diversity, color, and fun to our world.
* * * * * *

Copyright 1999 by Susan Robishaw